On June 24, 2016, I attended a wedding and reception for a young cousin of mine.  Our entire family enjoyed each other's presence, Michelle also being part of this group.  Over 500 selfies, an equal amount of sharp jokes -we were in our element.
Michelle was her typical self and clearly in her element also -surrounded by family and friends.
In hindsight, she bore no visual signs of trauma or issues outwardly when considering her condition now.
---
While getting dropped off in NYC in order to return to Atlanta, her humor came out after being provoked by her dad:
I have already selected someone for you and you will meet him on your wedding day.
Michelle's response was addressed to her mom, but she indirectly jabbed at her dad:
That one joke was the last impression she left before she was leaving for Atlanta.
---
Timeline of Events
On July 1st, 2016, Michelle was found partially paralyzed (from the neck downward) in her bedroom and she was immediately transported to Gwinett County Medical Center.
After being unable to diagnose her condition and at the request of Michelle's family,  she was transferred to Children's Hospital at Emory University on July 9th where she was treated until July 25th.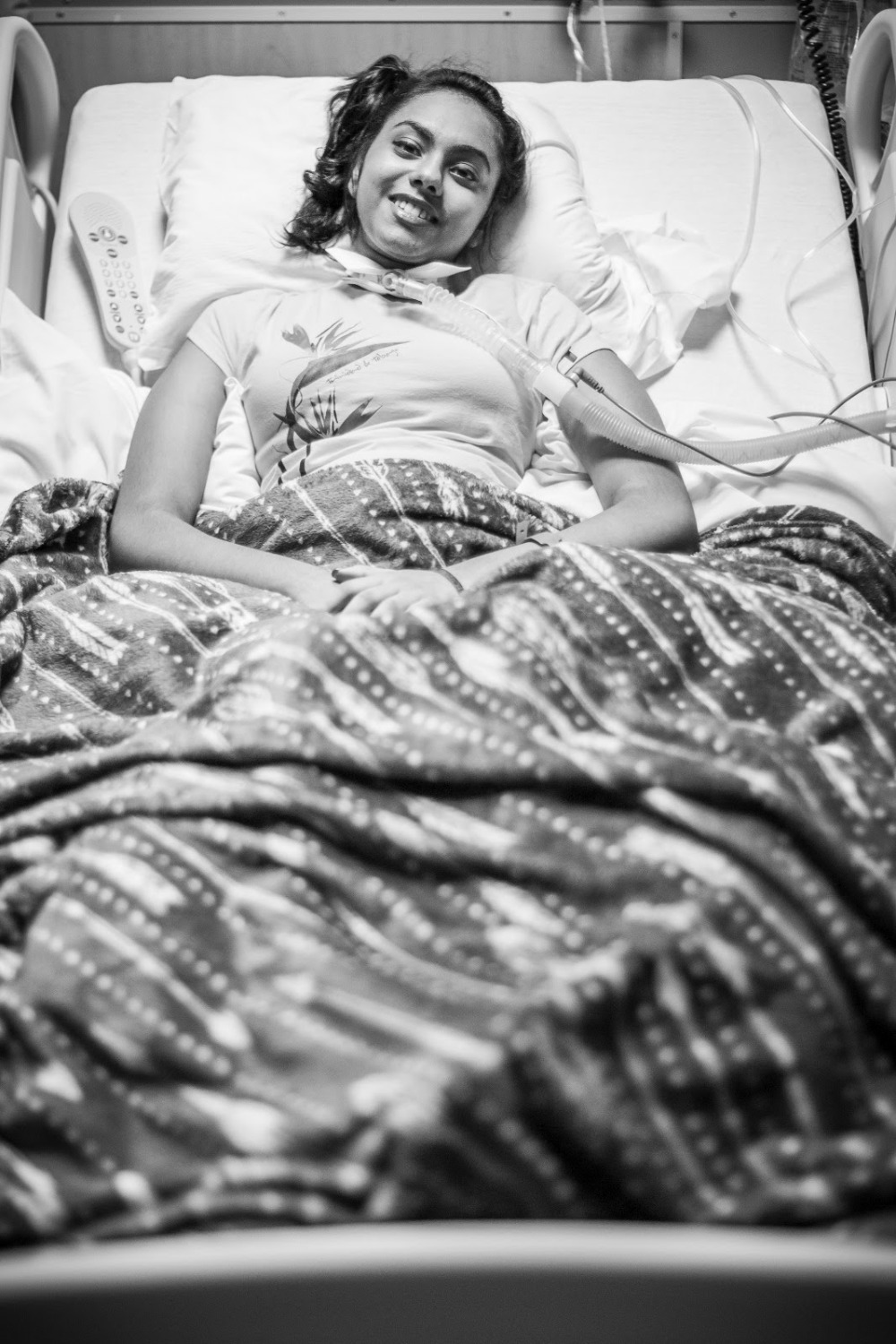 From July 25th until September 21st, Michelle underwent intensive rehab sessions at Children's Healthcare of Atlanta at Scottish Rite.  Scottish Rite invited a former patient who experienced a similar medical condition, to come visit Michelle.  The female visitor (also a Malayalee) underwent intense rehab sessions (for over a year) and outside of a mild limp in her gait, she lived a very independent life.
Michelle finally returned home on September 21st.
From July 1st until September 21st, all medical institutions concluded their positions which were best summarized by her own brother:
The world-renowned Johns Hopkins Hospital in MD was provided Michelle's MRI results for analysis -they too were equally bewildered.  They described the readings as that of someone who was involved in a traumatic car accident, specifically, a spinal infarction due to a blood clot or what is known as a spinal stroke.
The following is a description of spinal stroke from the Brain and Spine Foundation:
Some spinal strokes (ischaemic) are caused by a blood clot blocking one of the arteries supplying the spinal cord. A blood clot can form in these arteries or form in a blood vessel elsewhere in the body and travel (a clot is called an embolus when it's travelling) in the bloodstream to the spinal cord.
---
Three Personal Takeaways from My Interaction with Michelle:

I visited Michelle at Gwinett County Medical Center during the first part of her ordeal.  I learned so many things from our encounter:
Remain upbeat even as all chaos and hopelessness is around you.  Everyone who interacted with Michelle noted her attitude an upbeat demeanor with an ever-present smile.
Always say "I love you".  The end of all conversations was closed out with an "I love you".
Don't lose your sense of humor.  Once, with her brother by her bedside, an attractive nurse walked into the room.  Michelle, with the use of her eyebrows alone, signaled to her brother to take a look.
---
Creative Genius
As many know, Michelle can sing well and plays instruments "by ear".  Recently, she picked up a harmonica and played it with no previous training.  The preceding 2 min and 30-second video captured this unique ability-
Side note: someone within the distance of Michelle's room heard her playing the harmonica and was moved enough to anonymously donate an 8-piece harmonica set.
---
I deeply appreciate all the intercessory prays offered over Michelle's life.  But  how does one pray?
do I trust God for 100% recovery?

do I just ask for giving her a peace of mind?
Personally, I consider this a near-term condition, in that I pray for increased quality of life and peace of mind from day to day.
In expectation of God's overwhelming capability, I've thanked Him for what He is about to do because He has set precedence already and many times over.
Christ set the precedence
I know that If Christ commanded that Lazarus arises after four days of rigor mortis and that Christ opened the blind man's eyes -then Michelle's creator knows exactly what to activate in her to make her whole again.
One thing is certain, many have come to know about Michelle's plight and so then many will come to hear of her healing.  Everyone has value in the kingdom of God:
---
5 Important Tips for those dealing with Paralysis

In the event you or someone you know has experienced similar trauma, the following five tips were provided to me by Elizabeth A. Kumar, a Peer Mentor at the Center for Independent Living.
Michelle must be moved every two hours to avoid ulcers.
Contact the Center for Independent Living.
Visit Spinalpedia.  According to their About us: SPINALpedia serves the needs of thousands of individuals and families affected by a spinal cord injury (SCI) from all over the world. We are here to empower our community through our shared SCI knowledge, voices and stories. Our motto is "See it, Believe it, Do it– The Power of Experience!"
Consider retinal movement software like Camera Mouse.
Contact  The Miami Project to Cure Paralysis and the Bouniconti Fund – they may offer clinical trials for paralysis treatment.
---
Michelle's Go Fund Me Campaign
A Go Fund Me page has been set up to support Michelle's near and long term needs.  Thank you for all the prayers and donations thus far.  If you are moved to do so, please donate, but if otherwise, I, along with my entire family would deeply appreciate your intercessory prayers.
While I can't report any major changes in Michelle's development as of yet, I can say that her resolve to at least try remains fervent.
Thanks once again.
---
Note: I've left out so many details during Michelle's hospital and rehab stints because many of these details could be easily described as painful.  I did this solely out of respectful for Michelle's privacy and not to simply gloss over such life changing situations.
-Vino // vinod1227@gmail.com
Comments
comments